MERGERS & ACQUISITIONS
Many middle market companies simply lack the in-house expertise to execute a successful merger or acquisition. We work as an advisor to our clients, valuing transactions, creatively structuring deals, and negotiating favorable terms on their behalf.
At Boston Street Advisors, we can step into any stage of merger and acquisition advising. With our firm fulfilling this role, you can continue to focus on the core operations of your company, ensuring that the strategy for internal growth is implemented and the resulting value is maximized.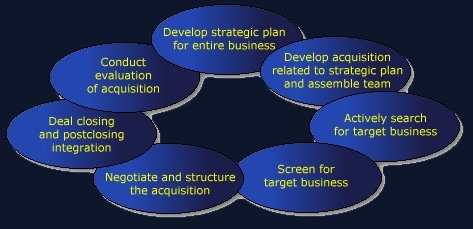 As mergers and acquisitions professionals we will do 2 things -- manage valuation expectations while developing and controlling the process to realize maximum value. We can work with you to clearly define the acquisition focus. Inevitably too narrow of a focus leads to a never ending search while too broad a focus can lead to a bad acquisition. We will also work with you to determine which functions of due diligence to outsource and which ones to perform in-house.
Keep in mind that you only have one real opportunity to sell your business. Unrealistic ideas and on the job experience can lead to a never ending search for the right "angel" to come along; with the results being that you end up paying too much or simply agreeing to a deal that is structured badly. All the while attention is diverted away from basic company operations, many times causing great harm that is very often irrevocable.
There can also be other reasons to engage us in the M&A process. One of the more common reasons is your need to keep your name out of the market place, either as a potential buyer or seller. Using an "agent" is a strong indication you are serious as a buyer or seller. Additionally, by using us to visit companies to determine their willingness to sell or buy, much of the wasted time of qualifying leads can be avoided. We can offer complete confidentiality until the timing is right to "announce" your involvement. Additionally, you may want to announce early in the process a relationship with us to "stir up" the market and give added credibility that you are indeed a serious player.
We will help you follow the basic tenets of M&A:
Pay the right price.

How can you determine the right price to pay for an acquisition? Or receive for a divestiture?

Using the right balance of debt and equity.
Invest with an edge -- management.
Understand the risks.
Understand the acquisition process.
How to determine cash flows and market values.
Undertake common sense strategies.
Keys to "making the deal work?"

The secrets to a successful acquisition.